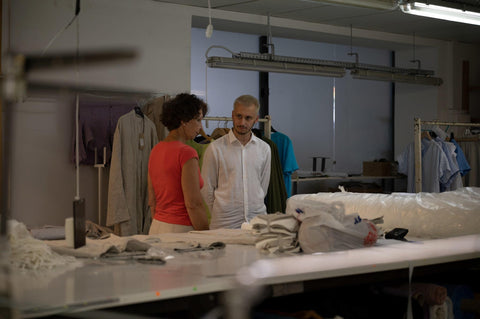 Five Questions on Ethical Fashion.
A short interview with the founder of the brand, Maximilian.
It is clear that ethics matter to you as much as sustainability. When choosing the seamstress and artisans to work with, what factors were most important to you? 
When I visited some production partners in Lithuania for the first time last summer, I wanted to get a feeling of who the people were and how they worked. I remember one quote of a production partner I did not end up working with "You should only use the linen from this supplier X in Russia, it is cheaper, and nobody notices the quality difference". My stomach had an immediate reaction of discomfort, as this kind of behavior is not what I want to portray with my brand. The production partner we ended up working with had everything I thought was needed, flexible working hours, big rooms with lots of space for few seamstresses, modern office space and friendly team members. Most importantly, they share our values and vision for the fashion world.